IMPORTANT

If you would want to purchase the app outside google play, please provide all of the following:
a) your device's Wifi MAC address
b) your device's IMEI (if it is a multi-sim device, for both slots)
c) your device's Serial number

To look for the above information, on your phone/tablet/device, please tap
Settings -> About Phone or
Settings -> About Phone -> Status
or
Settings -> About Tablet or
Settings -> About Tablet -> Status
or
Settings -> About Device or
Settings -> About Device -> Status

or any equivalent of the above menu items.

The reason we do this is that the app contains license checking routines which are executed automatically when downloaded from Google Play. Since you prefer to purchase the app outside Google Play, you would have to provide the device information manually. Once we've confirmed payment, we shall send you instructions on how to download and install the app. Thank you very much!
Please scroll down to enter the required information.
Android Roman Missal App
Product Code:
RM version 1.0
Availability:
In Stock
Price: P 200.00
Ex Tax: P 200.00
The Android Roman Missal App requires at least Android 2.2 (Froyo) on your device
Features:
1. Works offline even without an Internet connection
2. Display for English, Latin or Both for the Order of Mass and Prefaces
3. English and Latin Entrance Antiphons and Communion Antiphons
4. Displays the celebration for the Day (e.g. Solemnity of the Nativity of the Lord, Tuesday in the 4th week of Ordinary Time, Year II, etc.)
5. Zoomable texts
6. Quick links that function like ribbons in the printed Missal
7. Reduced clicks/taps for easy following of the Mass.
8. Long tap a ribbon (i.e. button) to go to the Index of that riboon.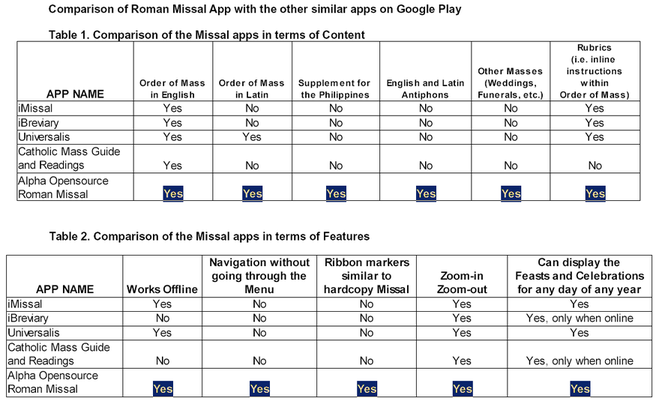 Write a review
Your Name:
Your Review:
Note: HTML is not translated!
Rating:
Bad
Good
Enter the code in the box below: